A trip to Lake Vivo
Beautiful places covered with snow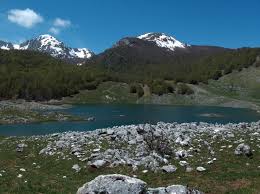 If you love hiking or taking photographs you can't miss this opportunity: a trip to Lake Vivo, at an altitude of 1591 m above sea level, is simply the best for nature lovers.
The name given to this sheet of water comes from its dimensions. They vary with the passing of seasons: in spring, when the snow melts, the lake reaches its deepest level.
Around the lake there are also different types of plants that show the beauty of their colours especially in autumn. How can you get there? There are signs along the paths. Leave from Barrea and proceed towards Alfedena. Go through the wood of beeches in Valle dell'Inferno, and you will reach Valico del Buon Passo.
With a two-hour walk you can get to the top of this path, more than 1600 m high. Take a few steps forward and you will see Lake Vivo in all its beauty, a precious jewel among the mountains. Stop here and you will be soon fascinated by the landscape. It's a real paradise for the animals which live in this place.
Birds stop here to drink, and deer – when autumn comes- challenge each other on the lake's shores. It's the mating season for these animals, and an unforgettable experience for you. Go on along the path, you will find woods, and finally the panoramic view of Lago della Montagna Spaccata. This path has a drop of 460 metres. It takes five hours there and back. You will admire the lake (lago della Montagna Spaccata) and the lofty mountain Petroso: it's the highest mountain in the National Park of Abruzzo, Lazio and Molise.
Torna all'elenco degli itinerari e degli eventi